My Marina
Tommy Solomon
By Allen J. Paltell
From September 2012 Issue
When I first met Tommy Solomon, I was driving my 1997 Ford Ranger and trying to get out of my neighborhood to get groceries. Tommy was behind the wheel of his white F-350 King Ranch, crew cab with a 6.0 Powerstroke diesel towing his 35-foot Marlin Center Console and trying to make a wide right turn to keep his more than 64-foot-long rig (truck and trailer combined) out of the drainage ditch. I was at the intersection trying to make a left turn. The nose of his F-350 was a couple of inches from my driver's window. I was daydreaming about milk prices and lettuce. Although I heard the clatter of the eight-cylinder diesel, I did not see the driver waving his arms and bouncing up and down in the truck cab. By the time I noticed him, Tommy had worked himself into a lather. I quickly sized up the situation, checked my mirrors, and backed up. Tommy, still bouncing, rolled down his window (I kept mine up) and made some noise with his mouth. I recognized the words; I have used them myself from time to time. Then, I removed my hat and waved. He completed the turn, continuing to gesture and speak. "Talented guy," I thought, "knows how to handle that rig."
We did not speak for a few weeks after that. In truth, I was a little afraid of him. I had heard stories; that he had been a Navy Seal, CIA agent, and boxer. Some said he fished on one of the vessels on Deadliest Catch in the Bering Sea (that turns out to be true). I decided to play it cautiously. When I visited Island Girl at Holiday Point Marina, he would be out in the yard, and we would avoid eye contact. It took us a few more weeks of "testosteroning" before we were ready to laugh about the incident.
We were sitting on the deck of Tom and Michele's houseboat, Fantastic, one evening. Tommy was taking photos and talking excitedly about his latest woodworking project. I had just acquired a camping trailer and was learning how to tow a 3000-pound rig behind my truck and was becoming aware of the challenges of "backing down." I said something like, "Sorry I blocked your turn a few weeks ago." "What?" said Tommy. "I blocked your turn as you were swinging wide," I replied. "What?" he said again. There was a pause. "Oh, that," said Tommy. "No big deal." That was the end of it. We have been friends since. If Tommy was a CIA agent, he hasn't told me about it.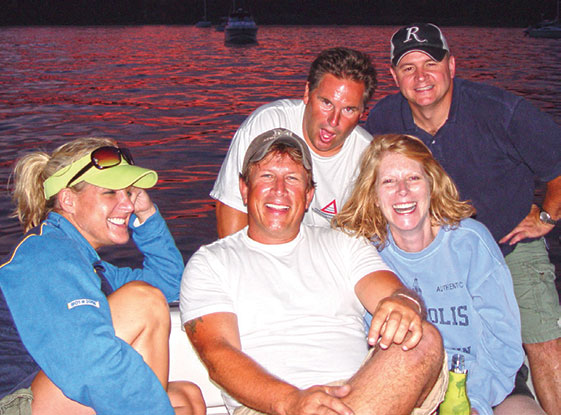 Tommy Solomon (center, sitting) with buddies.
Tommy fits into a group of independents often found around boatyards, who are friendly but detached and compassionate and angry at the same time. He'll give you a bag of groceries from Whole Foods and shed a tear about a dead raccoon. In the next moment, he'll blast the Internal Revenue Service, manufacturers of cheap engine cowlings, and the parents of kids he saw setting fire to the marsh behind his home at the marina earlier this year. Tommy does what he says he is going to do. And he does it very well. "Good enough," for Tommy is "outstanding" for most.
We are sitting on his porch, under a shrink wrap awning on the side of his trailer near the marsh in the rain. He jokes that my boat is on "A Dock," but he lives at "Marsh Dock," an exclusive gated community nearby. Tommy has lived there for over a decade. After spending the previous decade on the west coast in Seattle, WA, and Alaska, he came east to be closer to his family and work on boats in Annapolis. He drove east in a 1978 International Scout that housed him for a few weeks while he located enough work in Annapolis to get started. He liked our marina so much that he constructed a home and workshop on the marina grounds. The marina owners have given him broad latitude to take on projects compatible with the marina environment.
If you walk around Tommy's shop, you will currently see an older Department of Natural Resources patrol boat in for a refit, a couple of older sailboats in for custom paint work, and various smaller projects, such as new instrument panels, custom tools, art restoration, and photography. Most times, Tommy is working on something for a customer, a friend, or himself. If he's not doing the work, he is talking excitedly about how he will do it differently from the other guys and how his way is better.
Once, I was asked to identify the traits of the team members I would want to help me build a boat from scratch. I answered as follows: smart, but without too much education; fierce, but able to cry; strong, but not a bully; disciplined, but able to turn around and go the other way; and familiar with failure, but not comfortable with it. Tommy would be the first person I would pick. He ends our conversation as the rain stops saying, "I don't think I was smart enough to figure out that failure was an option."